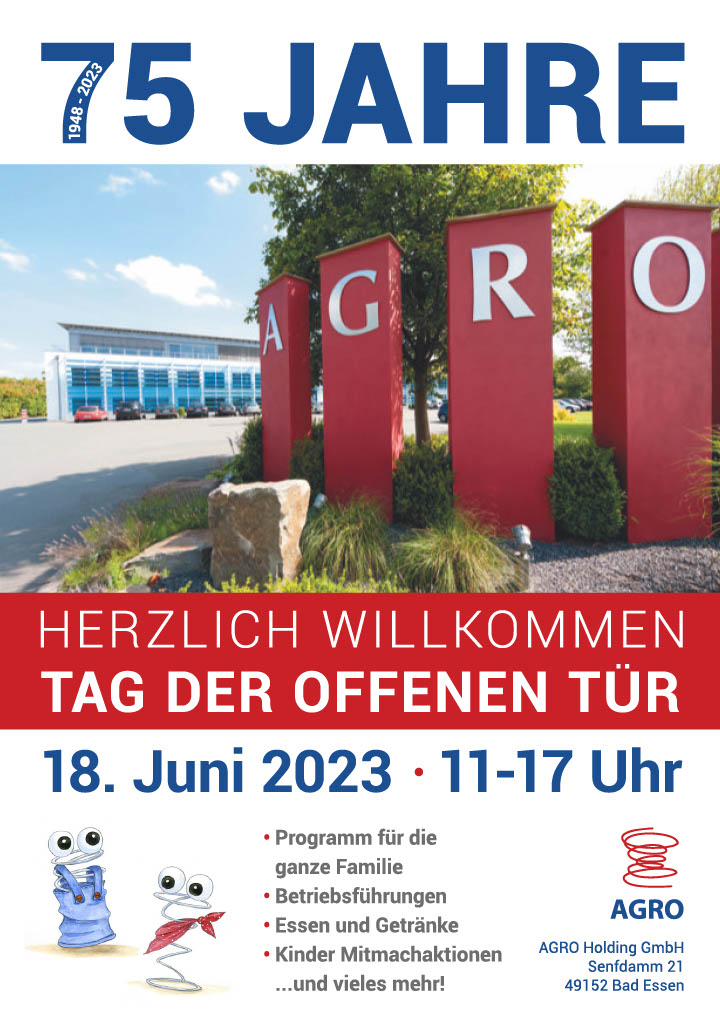 The AGRO-Family celebrates!
The AGRO Group celebrates its 75th anniversary as a family business in the 3rd generation at the Bad Essen site. At the same time, Herkules Poland is also celebrating: 30 years of successful production at the Szamotuły site.

AGRO is now also entering the nonwoven production sector. For this purpose, an existing plant in Halberstadt is taken over and operates under the name AGRO Nonwoven from now on.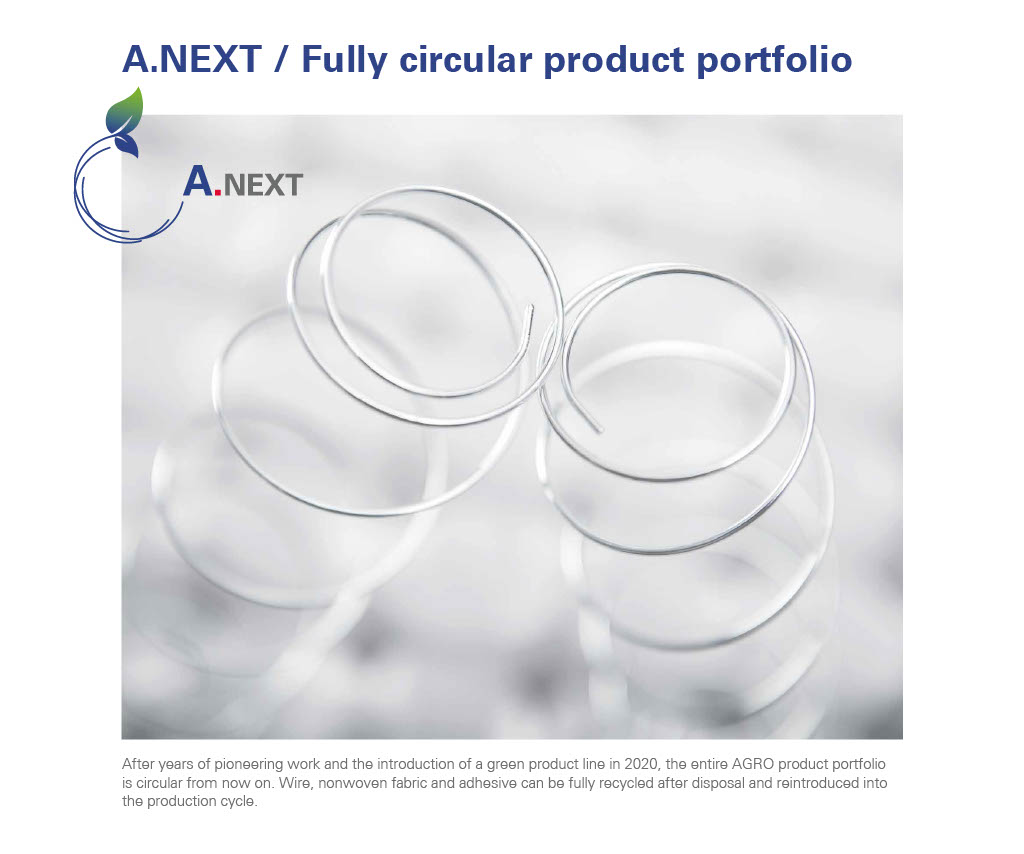 After years of pioneering work and the introduction of a green product line in 2020, the entire AGRO product portfolio is circular from now on. Wire, nonwoven fabric and adhesive can be fully recycled after disposal and reintroduced into the production cycle.
AGRO and Subiñas enter another joint venture in Spain: Subiñas Springs is created. From now on, the two partners continue the spring division of Industrias Subiñas together.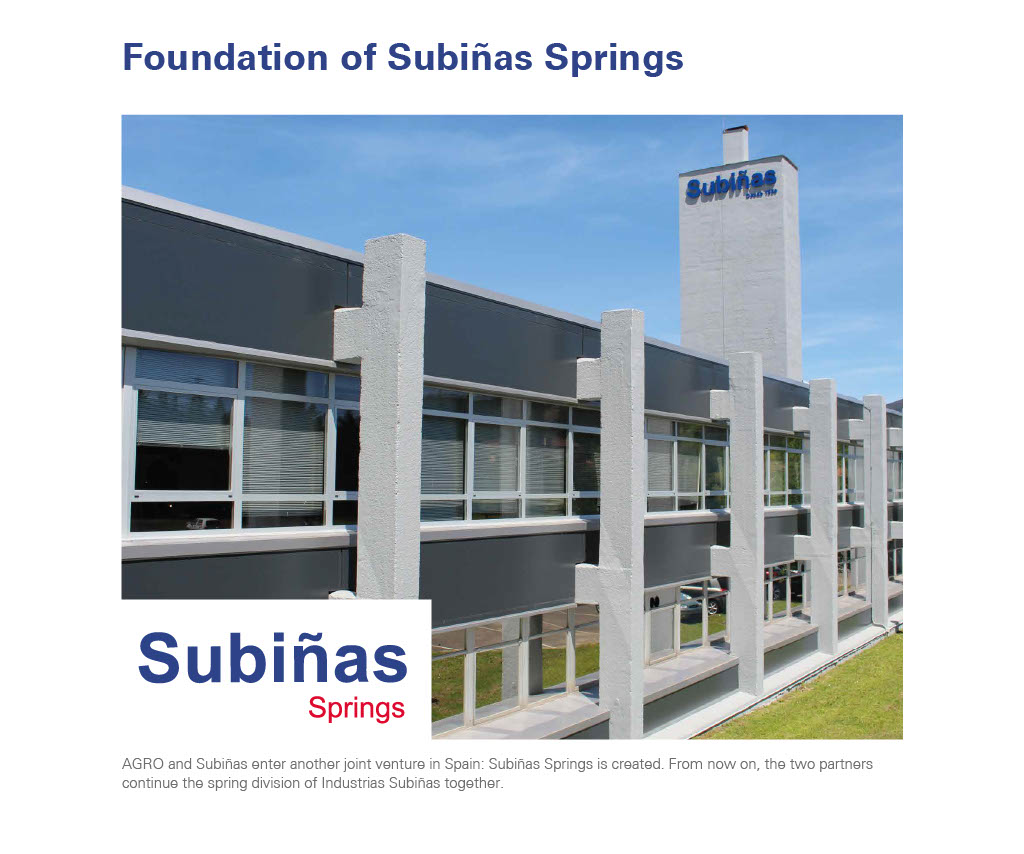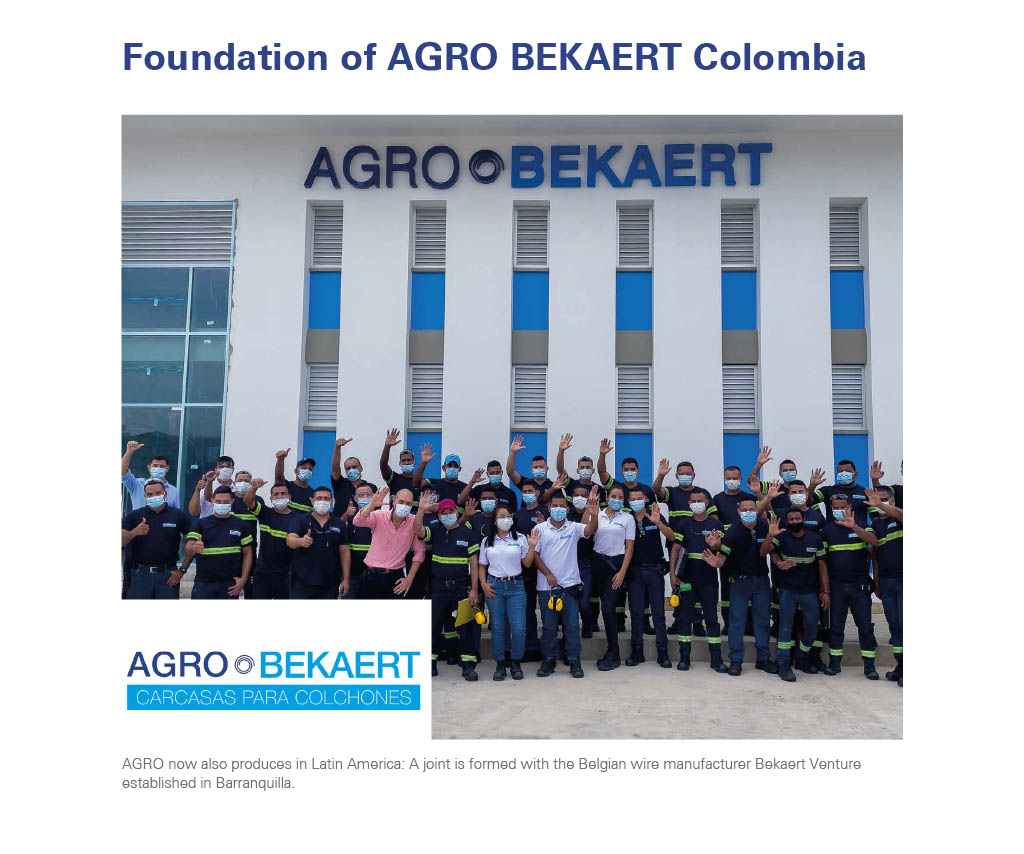 AGRO also produces in Latin America now: Together with the Belgian wire manufacturer Bekaert, a joint venture is set up in Barranquilla / Colombia.
AGRO opens an innerspring museum including a company guest house at its first production site in Barkhausen.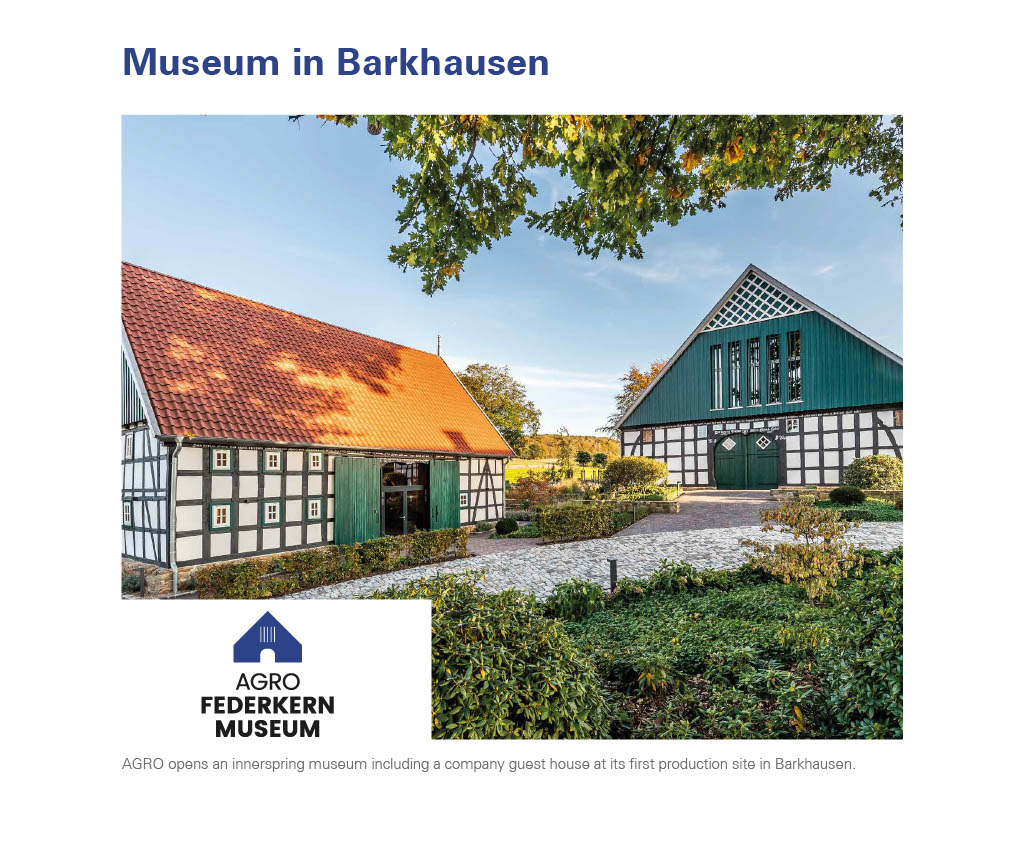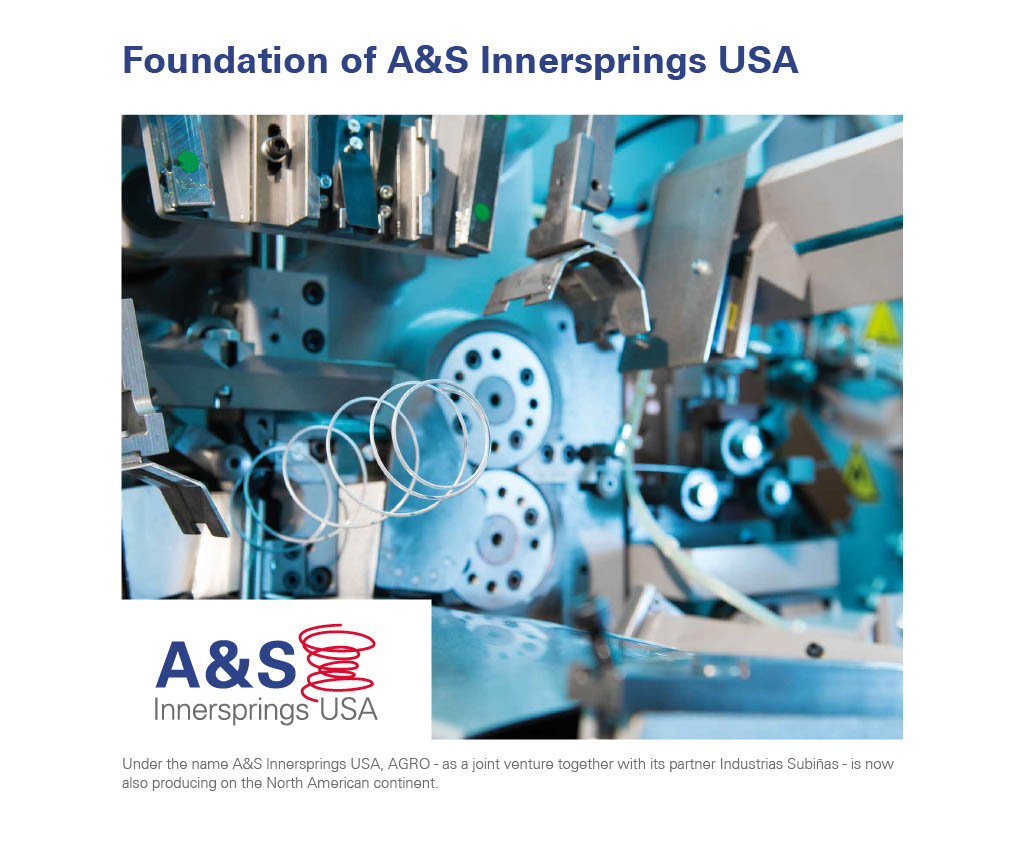 Under the name A&S lnnersprings USA, AGRO – as a joint venture together with its partner Industrias Subiñas – is now also conquering the North American continent.
With immediate effect, AGRO Tooling Systems will also start designing and developing its own machines. In addition, AGRO Immobilien is founded, which offers very special living space in and around Bad Essen.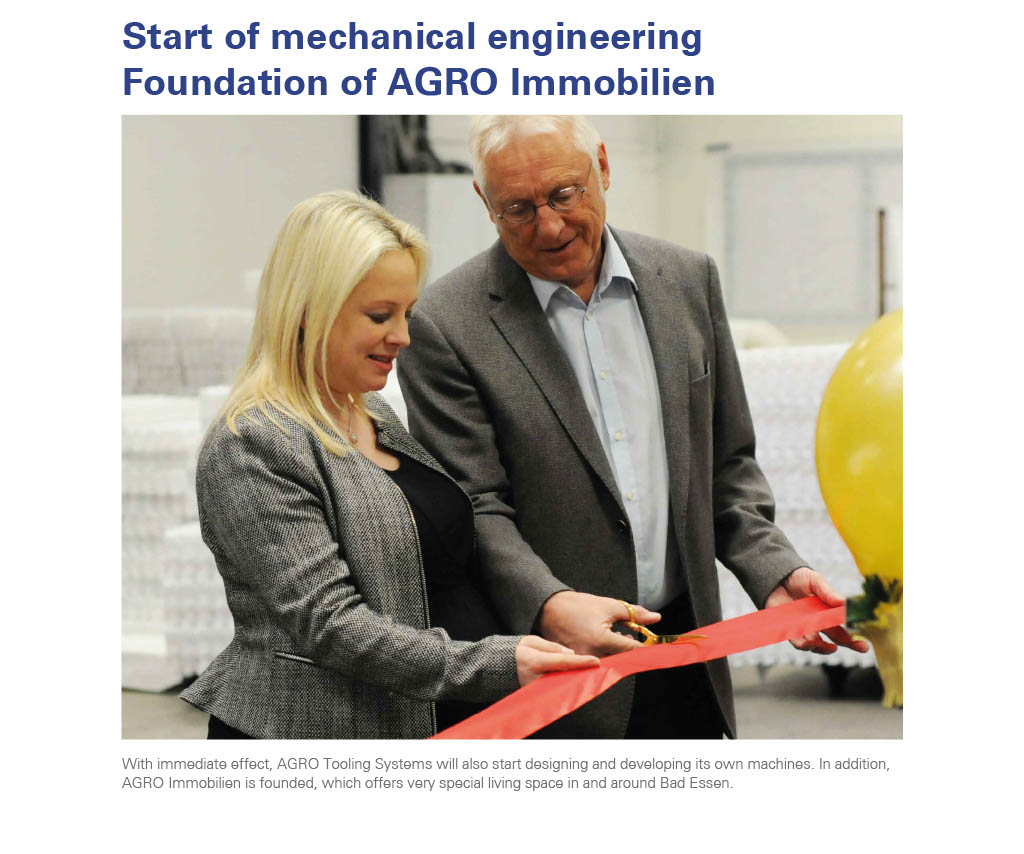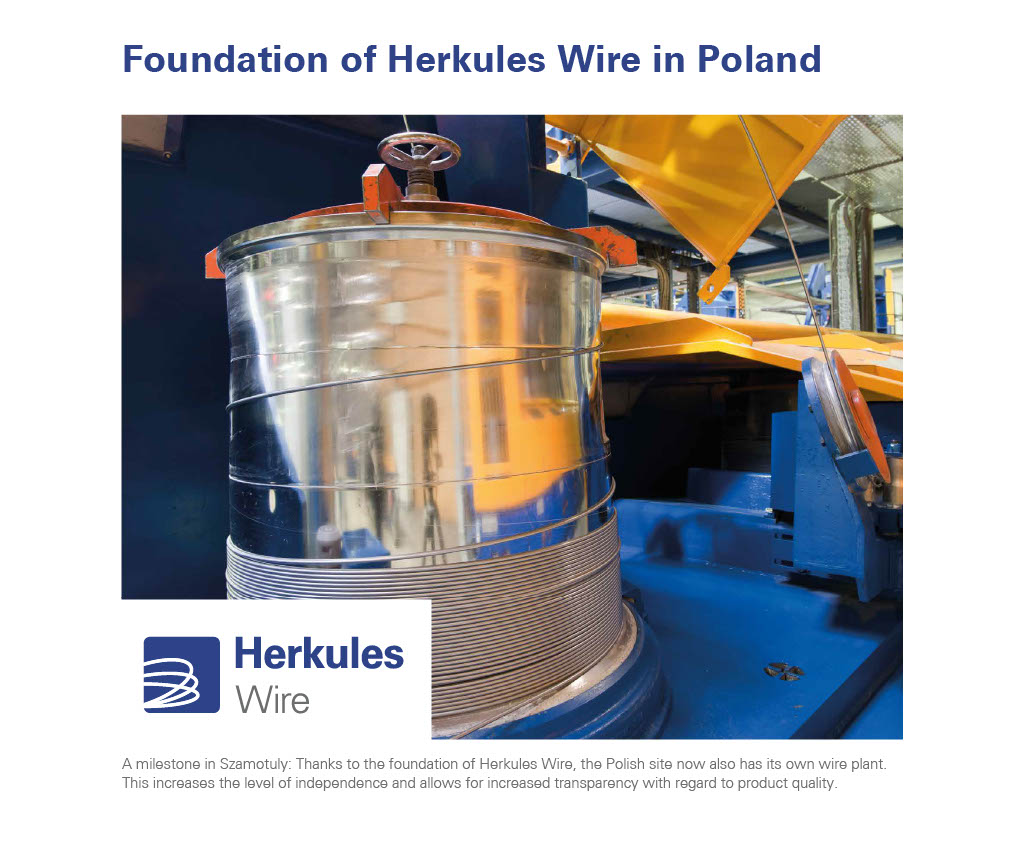 A milestone in Szamotuly: Thanks to the foundation of Herkules Wire, the Polish site now also has its own wire plant. This increases the level of independence and allows for increased transparency with regard to product quality.
With the extension of production facilities, including new warehousing and sorting plant, as well as 450 employees, AGRO is well positioned for continued success.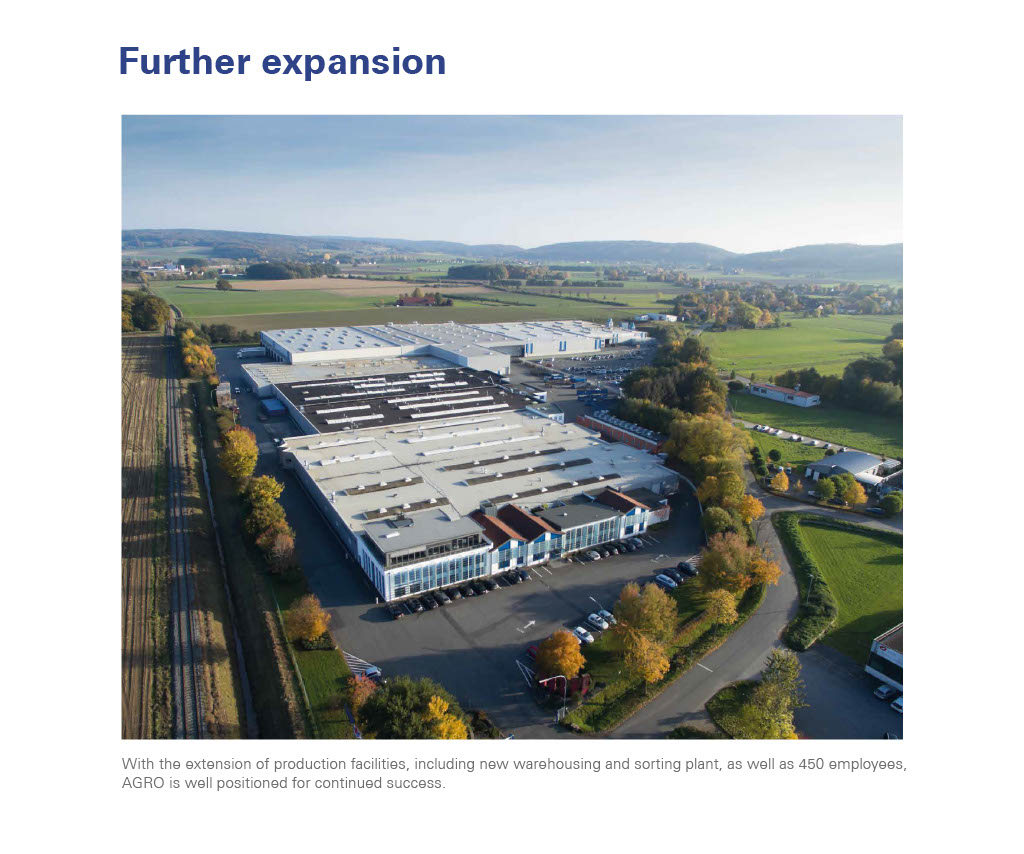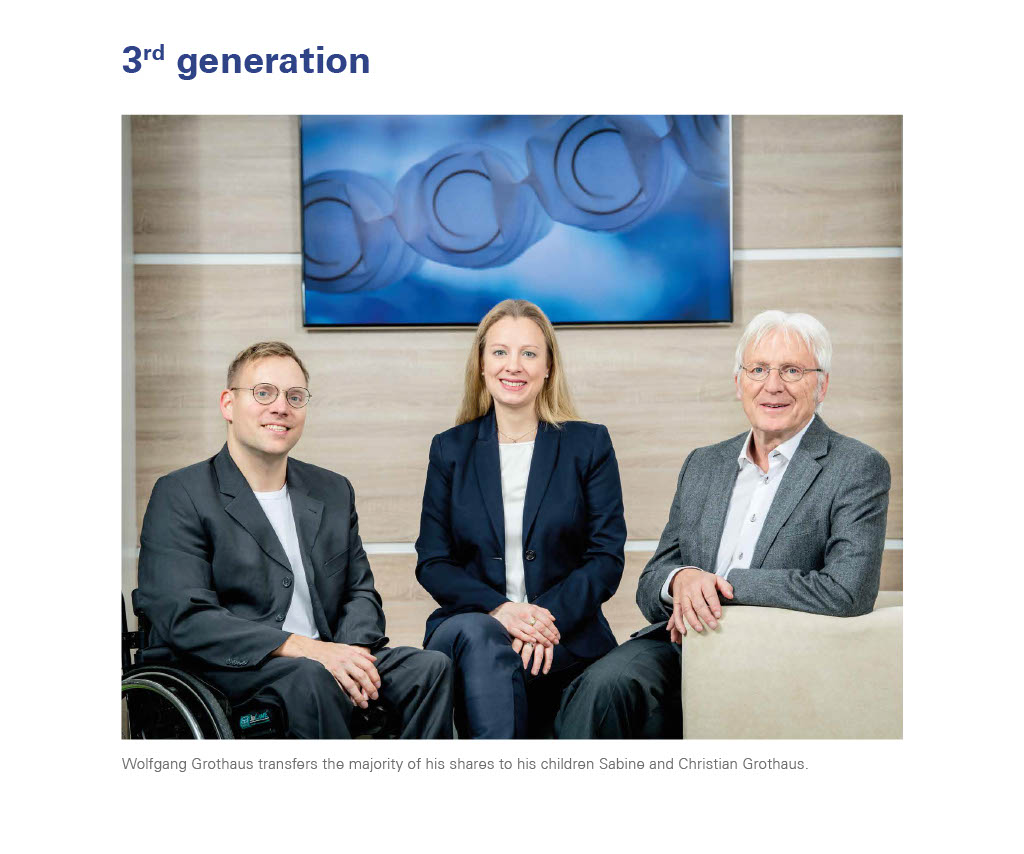 Wolfgang Grothaus transfers the majority of his shares to his children Sabine and Christian Grothaus. Together with the extension of production facilities, including new warehousing and sorting plant, AGRO is well positioned for continued success. Furthermore, AGRO expands its apprenticeship programme to include qualifying system operators.
AGRO Tooling Systems GmbH is founded. Being situated adjacent to the AGRO facility, this company is able to produce machinery replacement parts quickly and easily.  In addition, ATS offers mechanical engineering services to external customers.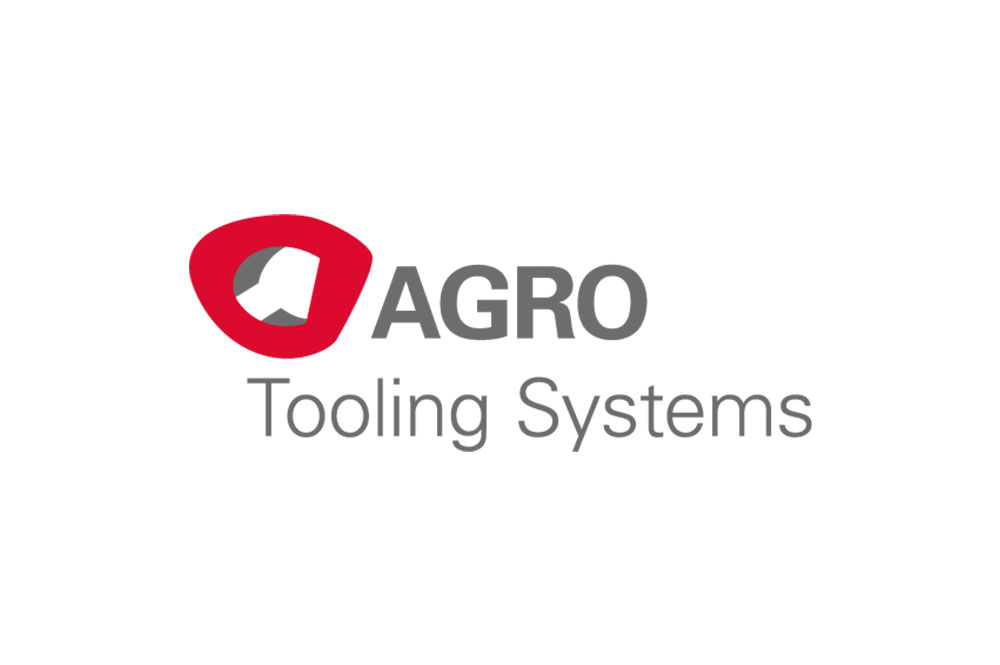 AGRO's growth leads to a restructuring. AGRO Holding GmbH emerges from AGRO Federkernproduktions GmbH and takes over all strategic tasks, whilst the operational business is taken over by AGRO International GmbH & Co. KG. At the same time AGRO Steel Wire and Herkules are taken under the corporate umbrella of the Holding company.
With the founding of AGRO Steel Wire GmbH (ASW), a plant for wire manufacturing on the same site, AGRO is able to use self-manufactured wire to a large extent – which allows AGRO to enjoy the advantage of becoming largely self sufficient.  AGRO's export rate has reached 80% of its sales volume. Core markets are Eastern Europe, Scandinavia, the United Kingdom, Southern Europe and Benelux. Little by little, global trading is developing as well.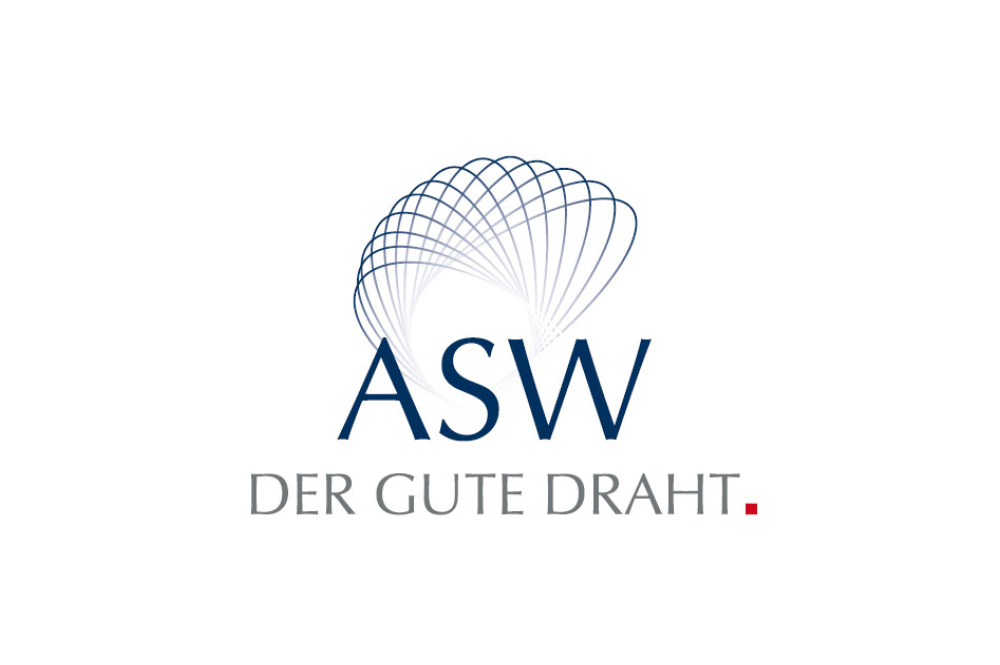 Through the construction of a fifth production hall, the production site has now expanded to a total size of about 25,000 sqm, including more than 100 machines. The size of the new high-bay racking is about 6,000 sqm, offering space for around 10,000 pallets.
AGRO acquires Herkules sp. z o.o. in Poland followed by further take-overs of smaller businesses in Germany, which are integrated into the AGRO company. At this time AGRO also becomes an apprenticing company – laying the foundation for the development of skilled employees. As a first step, AGRO is qualifying industrial mechanics (specialisation: maintenance), subsequently this offer is enlarged to include electronic technicians (specialisation: industrial engineering).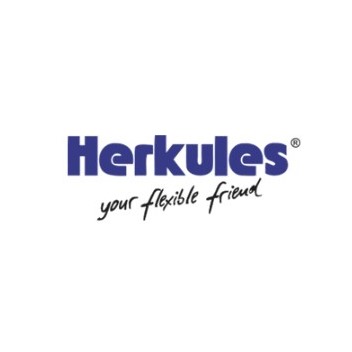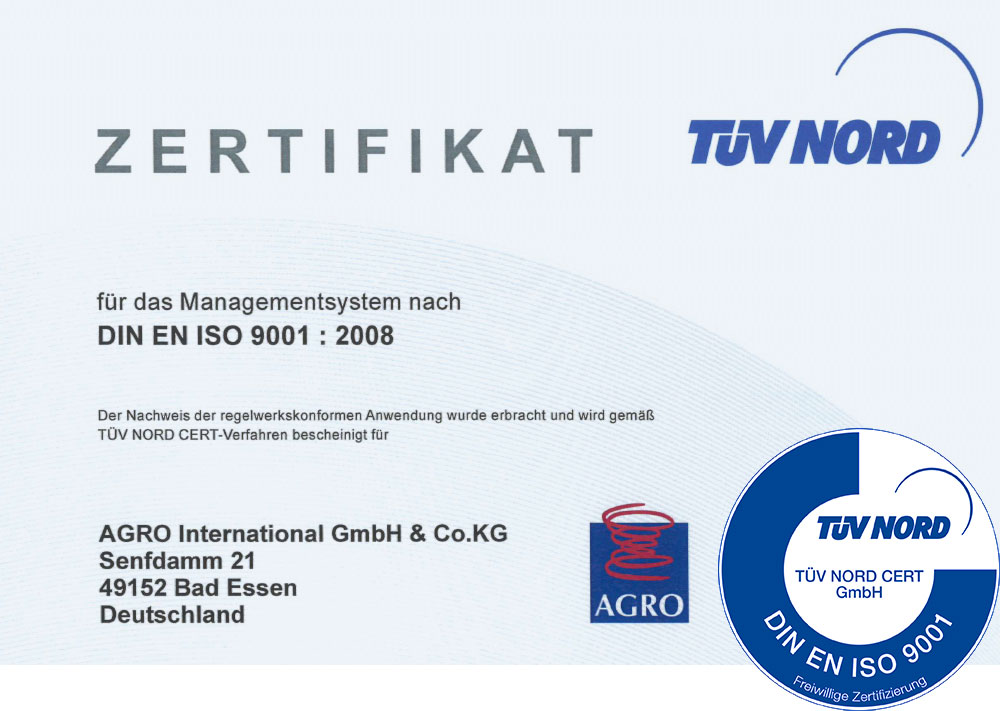 AGRO gets into the production of LFK units. At the same time, AGRO attains certification to Quality Standard DIN EN ISO 9001 for the first time. Subsequently, further certifications for product quality and energy management are achieved. There is further expansion within Europe by entering the Scandinavian and the British markets.
During the time of the fall of the Berlin Wall, the company is booming. Eastern Germany is developed as a new market, as does Belgium and the Netherlands to the west. In order to increase the capacity of production, the company's site is moved to Bad Essen. One year later, A. Grothaus Federeinlagen e.K. becomes AGRO Federkernproduktions GmbH. And as AGRO's growth continues, new production capacity is constructed regularly to meet increased business needs.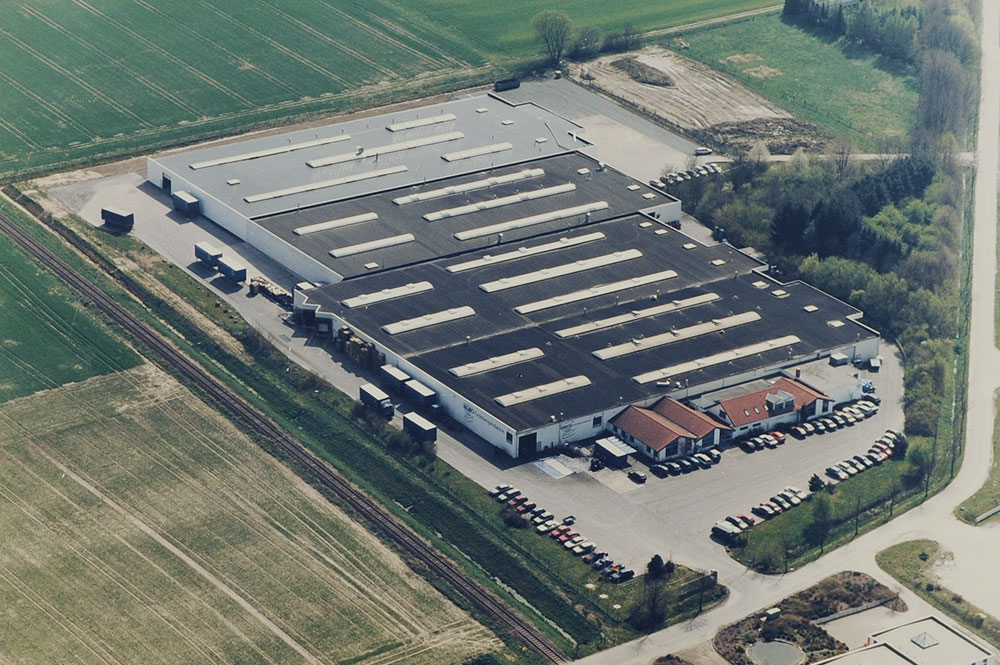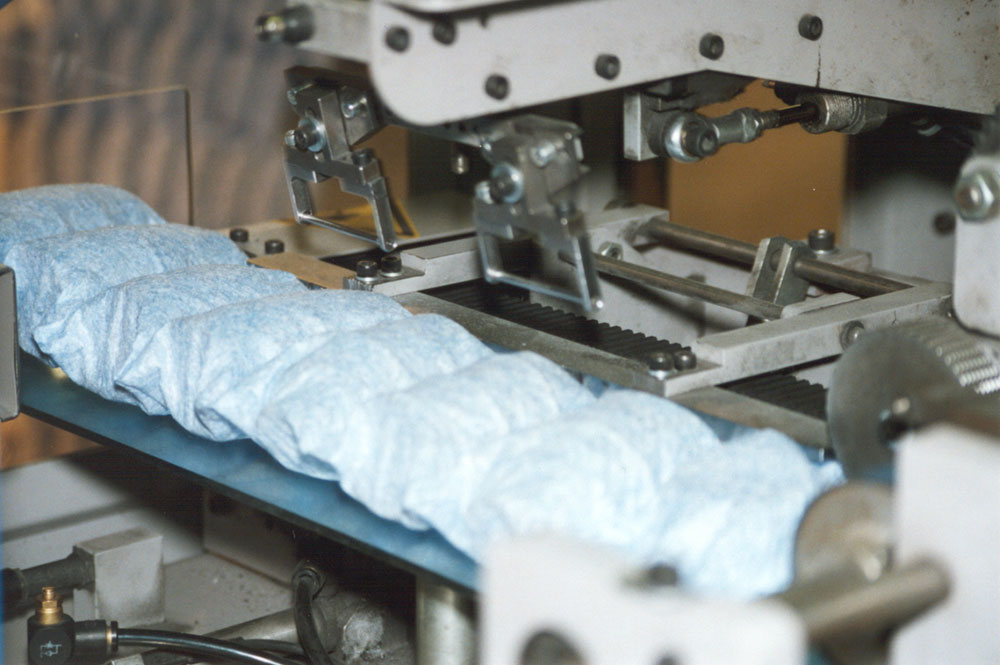 A. Grothaus Federeinlagen e.K. takes over several smaller businesses. Furthermore, the company gets into the production of pocket innersprings.
Wolfgang Grothaus joins his father in the business. The company now employs 12 people and is working 6 machines.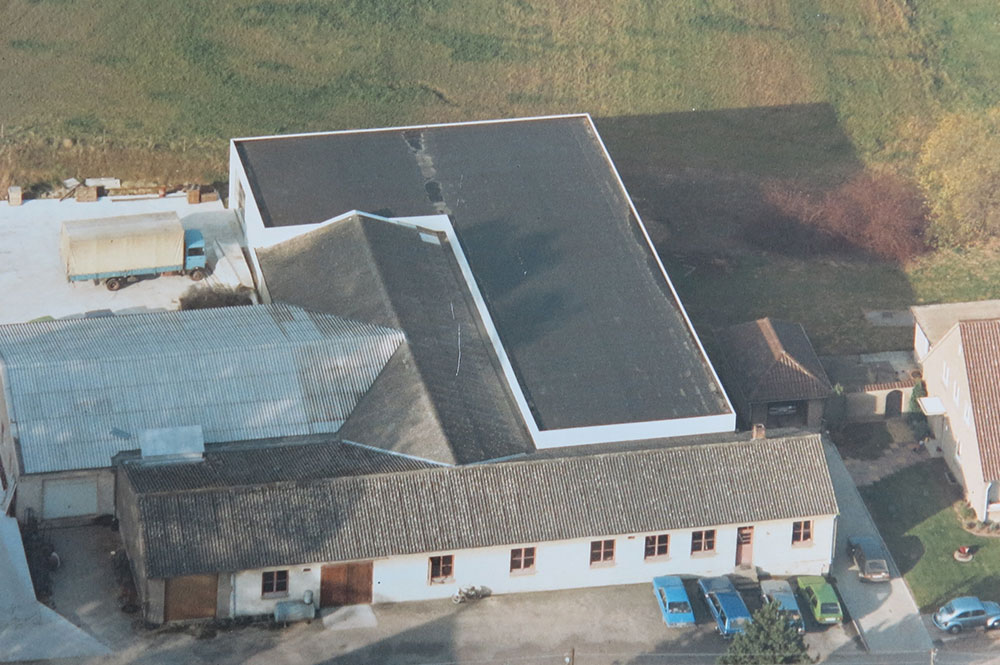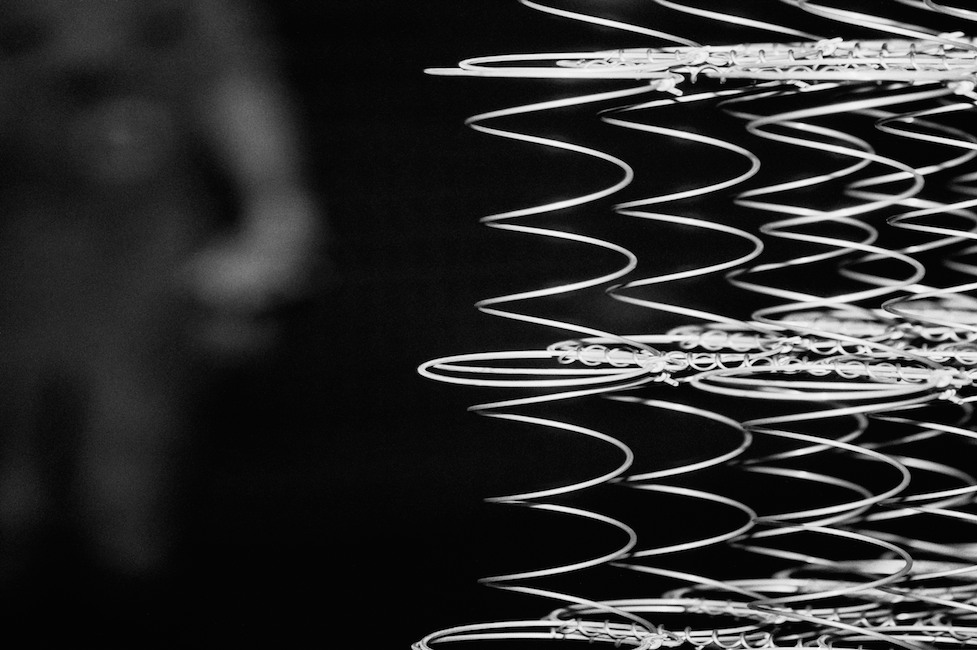 The range of products continues to grow: the company starts to produce Bonnell innersprings.
Friedrich Grothaus, founder of the business aged 32 years, starts production of cylindrical innersprings in Barkhausen near Osnabrück. The company was named A. Grothaus Federeinlagen e.K. – after his wife Anneliese.