VarioSense
Variety made easy
Peoples' sleeping needs are as individual as their faces. So when it comes to sleeping comfort, getting the right support for different body shapes and needs is the key.
An ambitious goal – but the solution can be easy: AGRO's VarioSense technology allows for variations in spring geometry to create special spring effects that are comfortable for all different sleeping positions, even by using only one single type of spring.
You would like to benefit from this technology?
Since VarioSense can be used on a range of products within the AGRO portfolio, a large number of individual specification options are possible.
Give it a go.
This innovation
in a nutshell

Shape
Variation of spring geometry in defined sections

Comfort
Special shapes deliver superior effects in comfort

Range
Applicable on diverse products in the AGRO portfolio

Recommendation
Recommended for pocket heights of 15 cm and more
One example of application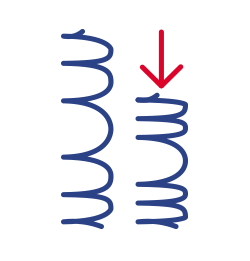 VarioSense
T
Especially high progressive spring effect
Soft and cosy feeling on the mattress due to the highly flexible top of the springs
Thanks to the firm centre of the springs, support increases with increasing pressure load, providing optimum support and a stable overall feeling on the mattress
Symmetrical set-up allows for the turning of mattresses
If you would like to see how VarioSense could be applied to your AGRO products to offer more variety of support do please get in touch. Your AGRO contact will be glad to help.